Finding a vehicle mount computer that can withstand a wide range of environmental conditions without taking damage is a challenge. NEXCOM answered the challenge in developing the 8-inch, 1280 x 720 resolution VMC 2020, with projected capacitive touch screen. The comprehensive vehicular system is most suitable for vehicles such as trucks, forklifts, cranes – and even police cars, taxis, and buses – especially in transportation, logistics, material handling, and import/export markets. It's certified to protect against external conditions in warehouses and ports that include rain/high humidity, sunlight, external impacts, and unexpected power interruptions. When integrated with other peripherals, the VMC 2020 becomes an all-in-one mobile panel PC that maximizes productivity and convenience.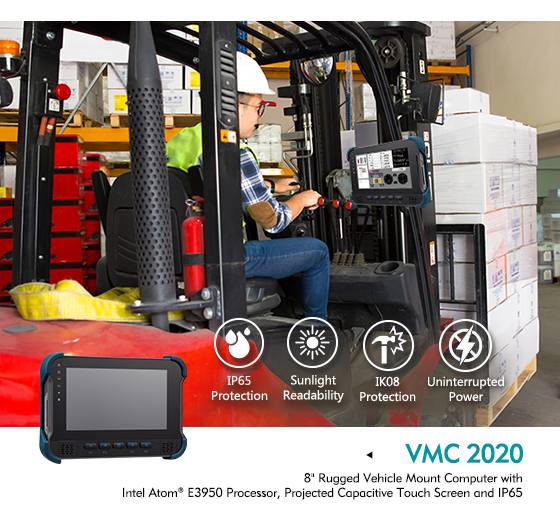 Touched by necessity
The VMC 2020's LCD touchscreen integrates the latest and greatest technology while ensuring durability and comfort. As outdoor users may need to quickly glance at the screen under sunlight conditions, the anti-glare coating, maximum 1,000-nits brightness, 1000:1 high contrast ratio, and wide viewing angle all improve readability and consequently increase driver satisfaction. Upon request, optical bonding can further reduce refraction and glare, while concurrently enhancing durability and preventing condensation. Furthermore, for extra convenience, the PCAP touchscreen (5-wire resistive BOM optional) is operable with gloves of various materials – even with water spillage!
Tough enough for any rough stuff
Our VMC 2020 in-vehicle computer is robust and sturdy, guaranteeing full functionality amidst harsh conditions. You'll be able to save money on replacement costs and extend computer use with its IK08 protection (IK09 with optical bonding). Tested with five joules of impact on five contact points, the valuable screen avoids most types of accidental damage, as well as work injuries caused by broken glass. VMC 2020 is both MIL-STD 810G and IP65 compliant, meaning that it's protected against vibration, shock, and dust and water ingress. On top of the aforementioned protection compliance, bumper guards on both sides keep device and user from injury.
Thoughtful construction means absolute cohesiveness
VMC 2020's design emphasizes utility and resilience. Icons on the multi-function buttons are raised for "no-look" operation so that drivers keep their eyes focused ahead, thus avoiding potential accidents. The buttons are even lit for visibility in dark environments. Accessories such as barcode scanners, RFID readers, thermal printers, and analog cameras connect easily to the vehicle mount computer via M12 A-coded I/Os such as RS232, USB, and CAN BUS. For situations where the VMC 2020's rear panel is completely mounted on surfaces, we can customize the I/Os to point downward for easier access. The telematics computer also includes mini-PCIe and M.2 slots for expansion uses, including wireless connectivity and mSATA/capture cards. And while it features a wide range of 9 to 60 VDC power, you can safeguard against work stoppage due to power interruptions with optional backup battery, giving you an extra 15 minutes of operation.
Main Features
8" TFT LCD monitor with projected capacitive touch screen
IPS LCD with wide viewing angle and resolution (1280 x 720)
Sunlight readable capability: 1,000 nits LCD brightness
3mm thick touch screen for IK08 protection against external damage
Touch screen operable with various gloves and even with water spillage
IP65 waterproof protection
Built-in Intel Atom® E3950 processor, up to 2.0 GHz
10/100/1000Mbps M12 A-coded independent Ethernet x 1
CVBS input for analog camera x 4 (optional)
Wide range DC input 9V~60V
Backup battery for approx. 15 additional min. of operation (optional)
Ordering Information
VMC 2020-PC1 (P/N: 10VC0202000X0)
8" rugged vehicle mount computer with Intel Atom® E3950, projected capacitive touch screen and complete IP65