For users in the transportation industry who want to unleash the power of AI in their computing systems, yet are also most comfortable with using Intel-based solutions, NEXCOM's Mobile Computing Solutions group brings you Movidius' Myriad™-X-enhanced transportation computing solutions: the ATC 8010-7B, nROK/VTC 6222-IMIoT, nROK 7252-IMIoT, and VTC 7251-IMIoT. With a choice of mini-PCIe and MXM form factors to match the spectrum of computing needs, these industrial AI edge computers are best suited for inference purposes, allowing operations to become safer and more efficient, while using the most up-to-date AI edge technology.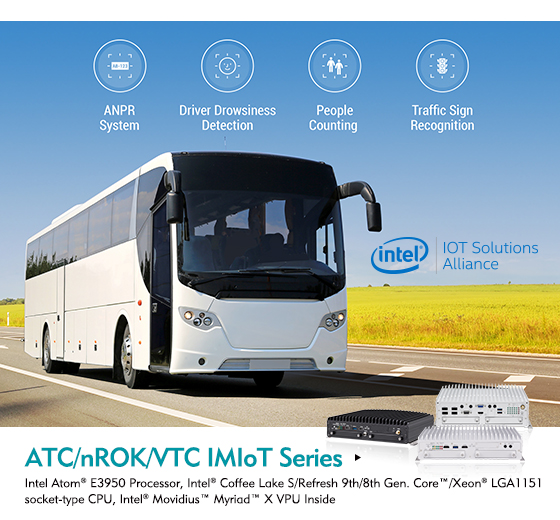 A partnership built to last
Intel® Movidius™ Myriad™ X Vision Processing Units deliver high performance with low power usage, giving you more bang for your buck. You can trust that the partnership of high-quality and durable Intel CPUs and NEXCOM's top-of-the-line computing solutions is a lifetime relationship. Better yet, the Myriad X VPU allows you to maximize AI capabilities, while the included OpenVINO™ toolkit facilitates deep learning models. Add the Movidius module, an energy-efficient, fanless device to assist with deep learning at the edge. Those new to implementing AI in IoT platforms can be confident in Intel's VPU design, which provides deep neural networks, power efficiency, and scalability.
Explore transportation's AI possibilities
The transportation sector is only in the beginning stages of discovering the infinite uses of AI technology. Safety, for instance, is one of the most crucial concerns for both passengers and drivers in implementing said technology. AI propels advanced driver-assistance systems (ADAS) through safety features, such as rear parking, blind spot monitoring, and emergency braking. Automatic number-plate recognition (ANPR) and facial recognition help law enforcement vehicles detect suspicious vehicles and persons, while also aiding with parking and toll booth payment collections. Machine vision is also accelerating the development of fully autonomous vehicles through object and lane detection technology, whereas obstacle and intrusion detection, traffic light management, traffic sign recognition, and pantograph inspection all assist railway systems with safely transporting passengers.
Your needs are top-of-mind at NEXCOM
NEXCOM has enhanced all of our transportation solutions for Movidius VPUs with a thermal dispatch design and anti-vibration/anti-shock protection. Our Movidius solutions include the ATC 8010-7B, nROK/VTC 6222-IMIoT, nROK 7252-IMIoT, and VTC 7251-IMIoT. The ATC 8010-7B is our AI edge telematics platform specifically designed for more graphic-intensive uses such as ANPR and AFR. Our nROK platforms are ruggedized and thus intended for use with railways, while the VTC selections are the perfect core to a variety of vehicular systems.
All Movidius-enhanced NEXCOM transportation solutions are equipped with four or eight 802.3af/at PoE ports, in addition to RAID and extra storage drives, so that video surveillance is easy. To ensure easy communication with your centralized command center and provide bandwidth for any supplemental needs, multiple 5G- and GPS-enabled WWAN modules are included or customizable (depending on model type), each with two SIM slots. All solutions are also CE and FCC Class A approved, as well as E-Mark, EN 50155, and MIL-STD-810G certified. NEXCOM also provides Myriad X-integrated AI edge accelerators, the AIBooster-X1 and AIBooster-X8-MXM, to help with applications such as artificial neural networks, machine vision, and deep learning.
Ordering Information
ATC 8010-7B (P/N: 10AT0801003X0)
Intel® Core™ 8th Gen. i7-8700T processors, 2 x 4 GB DDR4 industrial grade memory, AIBooster-M8-MXM, 8 x PoE 802.3af/at, 3 x mini-PCIe, 1 x M.2, 3 x SIM, E-Mark
VTC 6222-IMIoT
Intel Atom® processor E3950 up to 2.0GHz CPU, 4GB DDR3L industrial grade memory, Intel® Myriad™ X mini-PCIe module, DC input 9~48 VDC, 1 x VGA, 2 x HDMI, 1 x LAN, 4 x PoE, 2 x RS-232, 1 x RS-422/485, 8 x GPIO, 1 x USB 3.0, 2 x USB 2.0, E-Mark
nROK 6222-IMIoT
Intel Atom® processor E3950 up to 2.0GHz CPU, 4GB DDR3L industrial grade memory, Intel® Myriad™ X mini-PCIe module, DC input 24/36 VDC w/o isolation, 1 x VGA, 2 x HDMI, 1 x LAN, 4 x PoE, 2 x RS-232, 1 x RS-422/485, 8 x GPIO, 1 x USB 3.0, 2 x USB 2.0, EN50155
VTC 7251-IMIoT
Intel® Core™ 8th Gen. i7-8700T processors, 2 x 4 GB DDR4 industrial grade memory, Intel® Myriad™ X mini-PCIe module, VGA & HDMI output, 2 x external SSD, 1 x LAN, 4 x PoE 802.3af/at (total 60W), 4 x mini-PCIe slot, 1 x M.2 slot, 6 x external SIM, 6 x USB 3.1, 2 x RS232 (full), 1 x full RS232/422/485, 4 x DI & 4 x DO, E-Mark
nROK 7252-IMIoT
Intel® Core™ 8th Gen. i7-8700T processors, 2 x 4 GB DDR4 industrial grade memory, Intel® Myriad™ X mini-PCIe module, DC input 24V/36V (w/o isolation), 8 x PoE 802.3af/at, 3 x mini-PCIe, 2 x M.2, 6 x SIM, 1 x VGA, 2 x HDMI, 2 x LAN, 8 x PoE, 2 x RS-232, 1 x RS-232/422/485, 8 x GPIO, 4 x USB 3.1, 2 x USB 2.0, EN50155
AIBooster-X1
Intel® Movidius™ Myriad™ X VPU, mini-PCIe module (1 x MA2485 or 2 x MA2485)
AIBooster-X8-MXM (P/N: 10VK00MXM00X0)
Intel® Movidius™ Myriad™ X VPU, MXM module (8 x MA2485)